Written by Sean on Tuesday, October 8, 2013
What to Consider in Karaoke Machine Rentals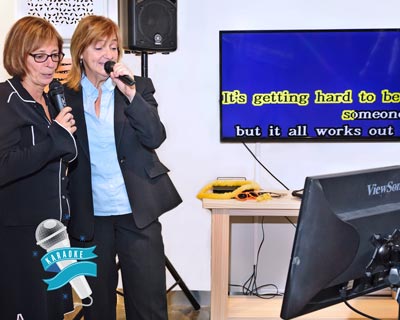 karaoke machine rental is a great way to bring life to your party! Karaoke is becoming more and more popular with a larger number of bars and restaurants in the Greater Hamilton Area offering karaoke nights than ever before! This extremely fun activity is an outstanding means to bring friends, family, and co-workers together! But karaoke in bars and restaurants can set you back a lot of money and you'll have to share the night with a bunch of people you don't know. In many cases karaoke machine rental is a much cheaper (and of course better!) option. But which type of karaoke machine to rent ? Consider the following tips when looking at Karaoke Machine Rental in Hamilton:
The Quality of the Audio Equipment
Possibly the most important factor in the success of your karaoke party is the quality of the audio equipment that comes with your karaoke machine rental. First of all, you should never rent a karaoke machine that does not include speakers. Why? Because using your home speakers means you'll get much lower quality sound and very likely, will damage your home speakers. A karaoke machine rental that does not include professional quality speakers must be avoided at all costs. Some come with speakers but they're so small you won't even hear yourself sing, like these little karaoke machines. All of the equipment rented out by Karaoke Rental Hamilton is of high-quality, from the cables to the microphones to the speakers. You can't sing great if you don't sound great!
The Rental Price
Making a wise decision when purchasing any type of electronics goods relies on one being willing to do some research. Different vendors will offer different prices for similar types of karaoke machine rentals. There are many machines on the market today and often price is a good indicator of quality. For rentals, it's always important to look at the quality of the system you are getting. Lower quality components guarantee you'll have less fun. You just can't have a great party if you're using low quality speakers and microphones.
What Types of Karaoke Machines are There?
There are many different formats for karaoke machines. Some use CD-G disks to play the karaoke music and display lyrics. The huge downside of CD-G's is that they're very easy to scratch and you'll have to swap CD's all night long. When a CD-G is scratched it either won't play or will skip during a song. The last thing you want during a performance! Another type of karaoke machines uses a hard drive full of mp3s. These are commonly referred to as "laptop karaoke rentals". These can be advantageous due to the large amount of songs they usually come with. These machines though are often more expensive but much easier (and funner to use). If you want your guests to have a great time then a karaoke machine rental with a digital library is the way to go! The convenience of not having to deal with a cumbersome quantity of discs and having a large library per-programmed in the machine means your guests can focus on one thing: singing!. Our systems meanwhile offer a digital catalogue that you can easily search through with a tablet, making song picking nearly as fun as singing!
Ready to book?
So you think a karaoke machine rental from Karaoke Hamilton is the way to go for your party? Congratulations! Our karaoke machines will give you and your guest hours of entertainment and camaraderie! Booking a system is just as easy as using it, simply follow this link to rent a karaoke machine